Magnetic Equipments- OBMS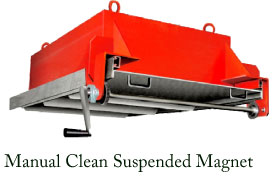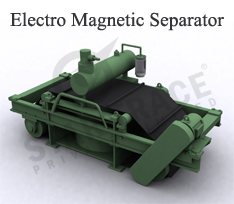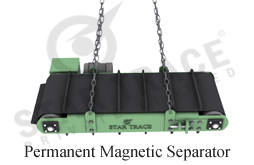 In many branches of industry STAR TRACE Overband magnetic Separators and suspension magnets have become indispensable for decades. They are used for removing magnetic parts from non-magnetic materials in order to project crushers, mills, processing plants etc. against too much wear and damage. They serve for cleaning non-magnetic bulk goods with iron contamination, for instance cleaning of foundry sand, coal and the like. They are used for recovering magnetic material from ore, steel mill slag etc.
Generally, overband magnetic separators and suspension magnets are installed above conveyor belts, vibratory feeders or chutes. They pick up ferrous metal parts from the bulk goods. In most cases, the magnets can also be installed in an existing installation without much expense.
When using overband magnetic separators and suspension magnets, many factors must be considered for the various applications, and it is impossible to list them all in a brochure. Each application, each material and each kind of conveying involves different problems.
Owing to the shape (demagnetization factor), long, bar-shaped and large iron parts can be better separated than short, cube shaped bulbous and small iron parts.
The efficiency of the overband magnetic separator or suspension magnet depends on the pole size, pole distance, field intensity in the conveyor burden, lines of the material to be separated.
Large burden depths, large lump sizes, sticky or humid material render the separation more difficult.
RECTANGULAR SUSPENDED MAGNETS
Star Trace has been using space age technology to design the performance of their Suspended Magnets over any belt conveyor, vibratory feeder or inclined chutes. Ideally suited for removing tramp iron in quantities where continually discharging magnetic separators are necessary. Iron is extracted against gravity from the flow of material and held firmly to the magnet face until the magnet is de-energised. The best position for installation is it an angel over the conveyor head pulley or at the discharge point of a feeder, where the material fans out and is loose. In this position the magnet will remove more iron belt speeds (Fig. 1) looking at it costwise, this installation provides the best tramp iron removal for the money invested. Other installations have been made with the magnet suspended parallel to and above the conveyer. In such applications it is necessary to use a stronger magnet because tramp iron must be pulled through a fairly stable bed of material. Cleaning is simple-the operator just swings the magnet away from the conveyor, turns off the current and the tramp iron drops free.
IN-LINE AND CROSS-BELT MAGNETIC SEPARATORS
The In Line or cross belt magnetic separators provide a continuous and automatic discharge of collected tramp iron. A cleated belt revolves around stationery rectangular electro magnet suspended over the belt. Any iron coming on the conveyor is attracted by the magnet and discharged automatically by the cleated. Rubber canvas belt having its own independent drive. This is especially desirable where the magnet removes large quantities of tramp iron and hence never requires cleaning or stopping of the main conveyor.
The in-line suspended separator automatically discharge tramp iron in the same direction as the conveyor travels (Fig. 2) installed at an angle over the material discharge, and has the added advantages of removing long pieces of iron such as rods. Since the self cleaning belt of the in-line separator that can safely handle of jamming and tearing up a long section of expensive conveyor belting.
The cross-belt magnetic separator (Fig. 3) automatically discharges removed iron at right angles to the main conveyor and can be installed anywhere and in some cases over the material discharge.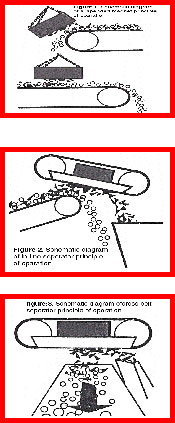 ELECTRO MAGNETIC SEPARATIONS DESIGN:
A) NATURAL AIR COOLED MAGNETS
STAR TRACE SUSPENSION MAGNETS consists of a magnet body and the exciter coil. Cross sections, shape and size of the magnet body are specially designed for magnetic coil and power input. Thus despite compact construction, low weight and low power input, high efficiency is reached.
The magnet body is a welded steel construction of high permeability. The standard exciter coil consists of an aluminum conductor and it is manufactured by using insulating materials of class 'H' and mounted into the magnet body. If specially requested we can also supply coli wound with copper conductor, the coil is covered by a non magnets plate.
Suspension lugs and one set of turn buckles and suspension rod with bull ring are normally supplied.
Electric Connection is by a terminal box. The entrance for cable fixing is fitted with a suitable cable gland.
B) NATURAL AIR COOLED MAGNETS
STAR TRACE also offers a wide range of oil cooled suspends and overband magnetic separations. These magnets are generally shorter in height and lighter in weight as compared to the equivalent Air cooled magnets. As a result, they are more economically priced.
In addition to the construction featured of the Air Cooled magnets, these magnets are also provided with a pressure relief value, filling hole, drain plug and an oil level gurge. Furthermore, if increased magnet power is desired, a heat exchanger can be mounted on the magnet to accelerate the cooling of the oil. A 10-15% increase in magnet power is possible with this feature. STAR TRACE OVERBAND MAGNETIC SEPARATORS consist of an Air cooled or oil cooled suspension magnet, supporting structure for the discharge belt with drive drum, tail drum, and 2 additional idlers where necessary. The drums, idlers are mounted on suitable self aligning bearings. A suitable geared-motor or motor coupled to gear box is used to drive the discharge belt. The discharge belt is a rubber/canvas or rubber/nylon belt with several piles and cleats. For re-tightening the discharge belt, the fixed axle of the tail drum is fitted with a tensioning device. STAR TRACE offers a wide range of standard Electro suspension magnets and overband magnetic separations suitable for belt width upto 2500mm and operating heights upto 1100mm.
PERMANENT MAGNET SEPARATION DESIGN:
STAR TRACE Permanent Magnetic Overband Separators and Suspension Magnets are powered by ceramic focused - flux, Strontium Ferrite magnets for superior coercive force. The Magnetism in these equipment is produced by an internal assembly of the above magnetic material. This assembly is enclosed in a non-magnetic housing.
The STAR TRACE design concentrates attractive power on the surface where it is needed most. The magnetic strength of the Permanent Magnet will match that of the corresponding size of the electromagnet used for the same application.
COMBINATION UNITS:
For extra protection from tramp iron
For increased product cleaning
For heavy duty separation applications
System 1:
Consists of an overband/suspended magnet separator for removing the initial iron combined with a magnetic head pulley for removing even fine iron that may be trapped below.
System 2:
Consists of an overband/suspended magnet in combination with high sensitivity i mining operations where some of the tramp is non-magnetic but equally damaging.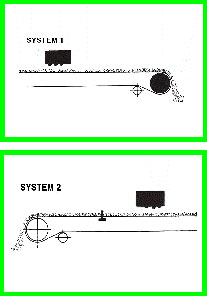 System 3 :
Consists of two metal detectors one preceding the magnet and the other succeeding the magnet. The magnet will operate at low voltage just sufficient to hold the tramp iron. On receiving signal from metal detector it will go into boost power mode for a few seconds. Should the tramp iron be non-magnetic the proceeding metal detector will trip the main conveyor motor and sound an alarm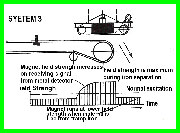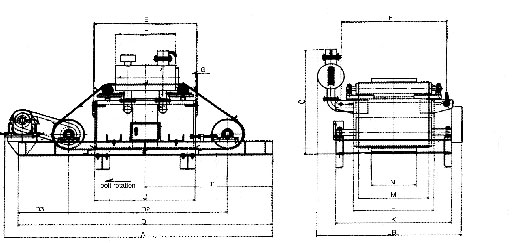 | | | | | | | | | | | | | | | | | | | | | | |
| --- | --- | --- | --- | --- | --- | --- | --- | --- | --- | --- | --- | --- | --- | --- | --- | --- | --- | --- | --- | --- | --- |
| MODEL | A | B | C | D | D1 | D2 | D3 | E | F | G | H | I | J | K | L | M | N | O | Kw | Kw | Kg |
| STHOBS-600 | 2458 | 1208 | 1063 | 2330 | 1170 | 1380 | 500 | 820 | 850 | 20 | 516 | 45 | 800 | 600 | 950 | 500 | 400 | 35 | 2.1 | 0.75 | 1500 |
| STHOBS-800 | 2668 | 1435 | 1110 | 2530 | 1270 | 1580 | 500 | 1022 | 1022 | 22 | 526 | 40 | 1000 | 800 | 1150 | 700 | 450 | 35 | 2.9 | 1.5 | 2300 |
| STHOBS-1000 | 2838 | 1659 | 1300 | 2700 | 1345 | 1730 | 520 | 1172 | 1172 | 22 | 624 | 50 | 1150 | 1000 | 1350 | 800 | 600 | 35 | 4.0 | 2.2 | 3300 |
| STHOBS-1200 | 3098 | 1803 | 1410 | 2950 | 1470 | 1980 | 520 | 1425 | 1425 | 25 | 666 | 70 | 1400 | 1100 | 1450 | 1000 | 600 | 65 | 5.6 | 2.2 | 4900 |
| STHOBS-1400 | 3348 | 2168 | 1479 | 3145 | 1570 | 2180 | 550 | 1528 | 1528 | 28 | 738 | 70 | 1500 | 1400 | 1780 | 1200 | 700 | 65 | 7.5 | 2.2 | 7500 |
| STHOBS-1600 | 3690 | 2369 | 1646 | 3490 | 1725 | 2430 | 580 | 1778 | 1778 | 28 | 808 | 70 | 1750 | 1600 | 1980 | 1400 | 800 | 65 | 7.5 | 3.7 | 9000 |