Magnetic Equipments- Magnetic Grill
Round and Square Magnetic Tubes
Individual Star Trace magnetics tubes in either round or square styles are available for customers desiring to fabricate their own systems for special applications requiring non-standard spacing or tube arrangement. Ruggedly constructed from 304 stainless steel, both styles have tapped mounting holes at each end for easy installation.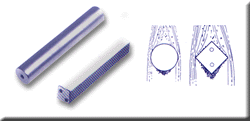 The one inch diameter round tubes have 1/4"-20 mounting holes and the one half inch ceramic square tubes have 3/8"-16 mounting holes. Standard tube sizes range from 4" to 48" long.
---
Grates
Material consistency and compactability which influence flow characteristics are important factors in grate magnet applications. Awareness of material with tendencies to bridge between the magnet tubes is necessary for positive flow.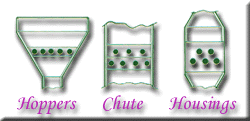 Diverter systems are helpful in directing the material to the magnets, but diverters can tend to increase bridging and reduce uniform flow. It is important that material have a natural product flow.
---
Round Tube Type
Magnetic grates deliver ferrous tramp metal separation in bins, chutes, drawers, hoppers and circular enclosures. Star Trace grates are constructed with one inch diameter magnetic tubes placed on two inch (2) centers in heavy duty 1/8" thick 2" wide 304 stainless steel framing.
The round magnetic grates are available in 30 standard diameters from 4 inches through 36 inches. Special sizes are also available. Each of these round grates can be equipped with diverters. The high strength magnet material used in Star Trace grates has an approximate magnetic loss of 1/2 of 1 percent per year.
---
Square Tube Type
Square tube magnet separation grates are ideal for heavy duty applications where high product volume is involved. Having strong magnetic fields, the square tubes are installed with the leading edge toward the material flow.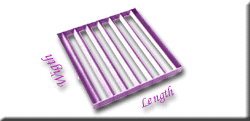 This positioning helps eliminate material bridging and provides a protected collecting area along the bottom of the magnet where ferrous tramp metal remains out of the material flow. Constructed from 304 stainless steel, and mounted in a 1/4: thick x 2-1/2" high stainless steel bar framing, Star Trace square tube magnet grates deliver heavy duty performance and long service life. Available in sixty-six standard square of rectangular sizes, these square tube grates are the optimum tramp metal separation device for point-of-entry receiving areas.