Magnetic Equipments- Magnetic Pumps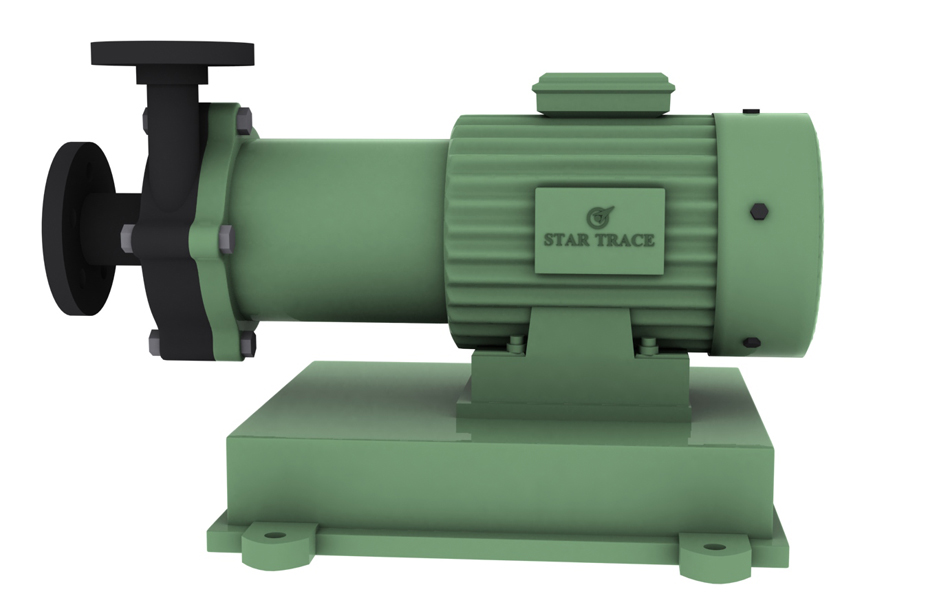 The STAR TRACE magnetically coupled pumps are centrifugal types of fully encapsulated construction. The pumps are rated for continuous duty and is ideally suited for recirculation applications. The unit can be used with mild acids or alkalis, since the only components in contact with the pumped fluid are plastic and ceramic with a rulon bearing and a viton O- ring. (see Chemical compatibility.) Magnetically coupled pumps offer a number of advantages over conventional centrifugal pumps type.
Leak paths are eliminated and friction and power consumption are reduced as there are no rotating seals.
All 'wetted' components are formed from advanced plastic materials and have a high resistance to aggressive fluids.
Transmission of heat from the pumped fluid to the motor is reduced.
INSTALLATION
The pump can be connected to pipework using suitable BSP fittings such as jubilee clips. The pump mounting plates have several fixing option. Flexible hoses with different internal diameters may be used (avoid over tightening as this may cause damage to the ports). The pump and pipework should be adequately supported and correctly fitted to avoid shock loading and strain on the pump and its ports. The pump not be mounted vertically with the ports below the motor.
OPERATION AND MAINTENANCE
The pump should have flooded suction since it does not self prime. Filters or restrictions should not be situated before the pump inlet. When priming, operate the pump in short 10 second cycles to facilitate the clearing of air. Ensure that there are no leaks or blockages in the associated pipework. The pump should not be operated against a closed valve for longer than 30 seconds. Where the pumped fluid causes coating or deposition, periodic cleaning of pumping internals may be necessary. This can be achieved by flushing through with an appropriate cleaning agent. The pump casing should be adequately ventilated to avoid overheating the motor. The motor is protected by the magnetic coupling should the impeller stall. do not run the pump dry.
CHEMICAL COMPATIBILITY LIST
Aluminum Chloride(10%)
Ammonium sulphate(50%)
Aniline
Antimony trichloride
Arsenic acid
Barium chloride
Boric acid
Calcium Chloride
Castor oil
Chromic acid
Citric acid
Cod liver oil
Copper sulphate
Cresols
Diesel oil
Diethylene oil
Ferric chloride
Formaldehyde(40% )
Freon 113

Furfural
Glycerol
Hexane
Hydrochloric acid(10%)
Hydrochloric acid(36%)
Hydrogen peroxide(35%)
Hydrogen sulphide gas
Iso propanol
Lactic acid(90%)
Linseed oil
Lubricating oil
Magnesium chloride
Mercuric chloride
Molasses
Nickel chloride
Oleic acid
Olive oil
Paraffin oil
Petrol

Potassium cyanide
Potassium -
permanganate ( 25% )
Potassium sulphate
Rapeseed oil
Silicon fluids
Silver nitrate
Sodium carbonate (10% )
Sodium chloride ( 25% )
Sodium cyanide
Sodium nitrate
Stannic chloride
Sulphur dioxide
Tetrachloroethane
Tricesyl phosphate
Water ( distilled )
White spirit
Wine
Zinc chloride ( aq sol)
Motor Specification
| | | | | | |
| --- | --- | --- | --- | --- | --- |
| Model No. | Maximun flow rate (Liters/min.) | Input Power (watts) | Output Power (watts) | Supply Voltage | Current (Amps) |
| ST - 02 | 14 | 51 | 10 | 240 | 0.5 |
| ST - 04 | 35 | 84 | 18 | 240 | 0.7 |
| ST - 06 | 47 | 95 | 60 | 240 | 1.0 |
| ST-44 | 140 | 400 | 250 | 240 | 3.5 |