Magnetic Equipments- Chute-Rotary Magnets
These are high powered Electro Magnetic Vibration Chute Separator mostly used for treating fine and dry materials where iron could not be extracted by other Magnetic separators and need a very fine Magnetic feed for free flow where iron percentage is not more than 2%. This is complete with Structure, Hopper, Vibrating.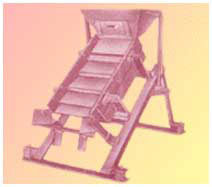 This is complete with Structure, Hopper, Vibrating Tray with feed regulation and Cascade type Magnetic Pole Plates having peak Magnetic field on the Top of Pole and under each pole there is a pocket into which iron particules are drawn and these separators are capable to extract even the finest iron particles as they pass over a series of Magnetic Poles of Alternate field.
The materials are feed by hopper and an Electro Magnetic Vibrating Tray carries it and discharges over the Magnetic Cascade Poles where materials fall down leaving behind the iron particies trapped in the pole pocket. The Delivery end is equipped with collapsible bridge which shuts off when current fails and avoid mixing of materials.
Rotary Motorised Magnetic Grids
Rotary Motorised Magnetic Grids has SS Magnet Tubes on a circular arrangement held in place by two stainless steel end plates, a Speed Reduction Gear Motor and Starter. This is ideal for material that do not flow easily and obstruct flow in plain Grid.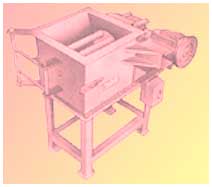 Rotary Grid is recommended for Sticky Diary products, pulverized minerals and ceramics, fibrous substances, Lino and fine cohesive materials such as magnesium oxide, zircon powder, fly ash,. alumina, gypsum, lime, powder sugar, cornstarch and flour. The rotary action not only prevents materials from briding, but it improves magnetic separation by agitaing cohesive powders.
It is manufactured as independent unit with Rare Earth Ndfeb Magnets in 25 mm Dia Tube. These are manufactured with manual and easy clean design. Sizes manufactured 300 x 300mm - 15 M3/hr. 400 x 400mm - 25 M3/hr.